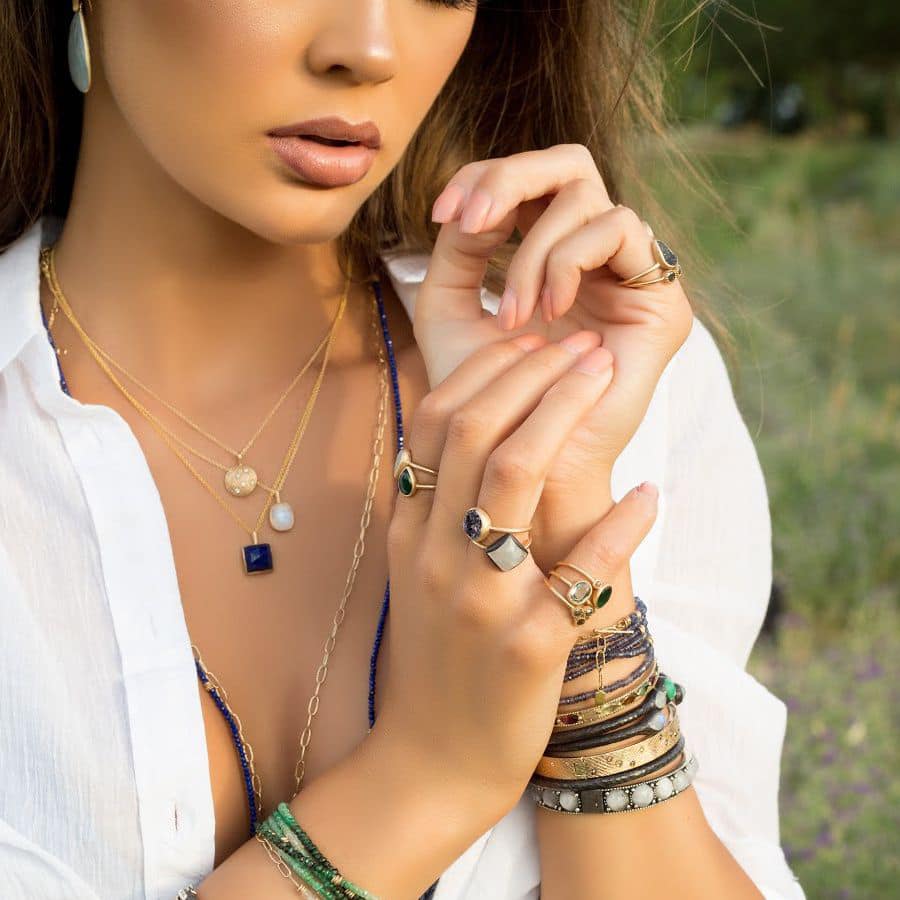 Since founding her namesake line in 2005, Nina Nguyen (Wynn) has developed a cult following among collectors who appreciate her award-winning approach to jewelry design: Intricately etched, hammered, or engraved metal work combined with the raw, earthy magic of gemstones.
Based in Denver, CO, just a short drive from the splendor of the Rocky Mountains, Nina has a diverse landscape to inspire her, from the petals of alpine wildflowers to the drama of a night sky viewed at an elevation at 10,075 feet.
But a chic and well-made jewelry line was not enough for Nina. Having immigrated to the U.S. from Vietnam when she was 12, her education, previous career in finance, and natural enterprising instincts helped her to identify and create what her customers now love most about her jewelry: Versatility.
---
Everything in Nina's collection is meant to be stacked, layered, and converted into an array of looks.
---
| | |
| --- | --- |
| The most popular pieces are the convertible earrings, an intricate, patent­ pending system of gemstone or diamond-set metal charms that thread onto hoop earrings, necklaces or bracelets. | |
| | |
| --- | --- |
| | Our best-selling "wraps" are long beaded gemstone necklaces that can be worn as a single strand, doubled-up, or as a wrap bracelet. The wraps pair perfectly with handmade layering chains and also stack beautifully with our popular hinged bangles (available in four sizes). |