Allison-Kaufman Company, in business since 1920, is one of the oldest and most respected diamond jewelry manufacturers in the United States. Our family owned business has had a commitment to manufacturing the best in fine diamond jewelry for nearly a century.
---

The AXION Design jewelry line is handcrafted from precious metals as well as precious and semiprecious stones and genuine leather.
They are designed to underline the personality of the individual and celebrate the free spirit of men and women wearing the designs.
---

Our hand crafted silver bells cover many themes, including family, faith, love and nature, making them the perfect gift for any occasion. We strive to maintain the highest level of quality and artistry in all of our unique designs and care for our customers with a servant's heart. Founded in 1991, The Bell Collection is a small, family owned company based in Round Rock, Texas.
--ALL BELLS ARE 20% OFF--
---

Since its foundation in 1930, CITIZEN has promoted a multi-cultural mindset that fosters excellence and creativity. The very name of the brand conveys a deep respect toward craftsmanship and considered as familiar by citizens the world-over. So as a "citizen" of the world, we bear the responsibility to help cultivate a culture of positive change and on-going evolution through our craft. We take that mission seriously and steadfastly welcome what the future may bring. As a true manufacture d'horlogerie, CITIZEN integrates a comprehensive manufacturing process from creating individual components to a watch's final assembly. It's an artisan's approach to watch making based on pushing forward the boundaries of technology and leveraging our experience toward exploring new possibilities.
---

Officially licensed by Disney, Enchanted Disney Fine Jewelry brings the magic to life! Discover the magic behind this iconic collection with beautiful jewelry that is "Classic & Timeless" like Cinderella, "Regal & Brilliant" like Elsa, or "Sophisticated & Bright" like Belle.
Take the quiz to find out which princess you are.
---

Frederic Duclos is an award winning French designer of contemporary sterling jewelry. Established in 1984, this family owned studio is based in Huntington Beach, California. The designer recently won two first place awards in the Jeweler's Choice Award competition for 2014 as well as finalist awards in 2013 and 2012.
---
---

Our story begins with two dynamic and talented brothers, Jack and Dominick, who saw an unfeeling jewelry industry that needed new vision. They understood why unique, quality jewelry is important to people in the first place: to celebrate the special occasions, to commemorate the momentous accomplishments, to honor the deepest relationships, and to capture the unspeakable beauty of life and those who matter most.
---

Show someone how much you care. Offer them defense against the Evil Road Spirits! Give a Guardian™ Bell and share the Legend of Good Luck it offers to a motorcycle and its rider!
---

Beautiful, breathtaking, amazing, unbelievable… she's all those things to you and more so why not give her the only jewelry that can come close… The Heartbeat Collection.
---

Over 40 years ago, Mike Fisher crafted his first Secret Box for his girlfriend. Since then, his passion for woodworking has grown into both a career and a world-renowned business, Heartwood Creations. Heartwood has been expanding and improving their product line and woodworking techniques ever since its establishment in 1978 in Rockford, Illinois.
---

The secret behind Kabana's ever-growing success stems from the union of two essential factors. The first one is Kabana's,outstanding, innovative, contemporary and delightfully feminine design. The second factor is its perfect, tried-and-tested, renowned craftsmanship, ultimately resulting in Kabana's legendary quality and comfort.
---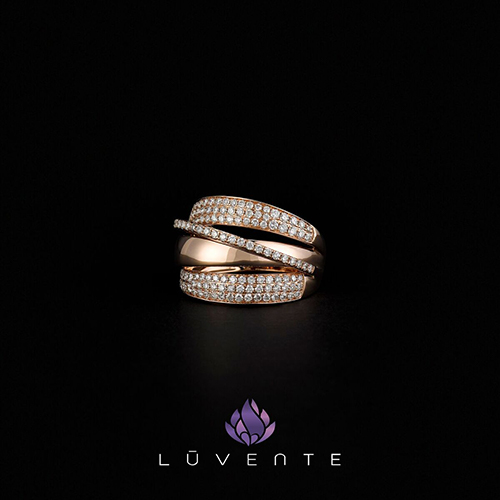 You are driven by a thirst for life's finest things, experiencing each day in a series of beautiful moments. You know how to live well and to treat yourself the way you deserve.
LŪVENTE has been designed for you. Seize the day and commemorate your finest moments. Your life's moments are yours; Capture them forever with LŪVENTE.
---

When you buy someone a piece of jewelry, you want it to be something they will appreciate, something they will wear. What better way to ensure your gift will mean something to the other person than to personalize it? Monograms, Nameplates, Birthstones - Rings, Cufflinks, Necklaces, Earrings...you name it and we'll find it or make it.
---

Rembrandt Charms is world-renowned for superb craftsmanship and a stunning collection featuring thousands of charm styles. Only Rembrandt has earned the title, The World's Largest Charm Collection by offering each charm style in five different precious metals: sterling silver, gold plate, 10k yellow gold, and 14k yellow and white gold.
---

Texans are known world wide for their Texas pride. Well Legend Jewelers is owned by a 5th Generation Texan and an early part of the store's heritage is our Legendary Horn Toad jewelry. We also have the beautiful Lone Star Cut Blue Topaz and we even, on occasion, have a few Star Cuts that are actually from Mason County. Another Texas pride trinket...the 100% Texas Woman charms and rings.